Athletics
Our Mission
Manchester Community Schools considers athletics to be an important part of our overall education program. The program shall be so directed that the welfare of the students will be the rule. Every effort should be made to assure student participation and encourage as many students as possible to share in the benefits of athletic participation. While participation is to be encouraged, it should be regarded as a privilege to participate in the athletic program. A student must understand that they are accepting not only the privileges and benefits of participating, but also the responsibilities. Representing the school is an honor and students must at all times exhibit model behavior. Continued emphasis shall reinforce the philosophy that the athletic program is an integral part of the educational program and should be a positive learning experience. Sportsmanship, fair play, teamwork, loyalty and the discipline of hard work are important values to be learned from athletics.
All athletic activities in the Manchester Community Schools shall be coordinated with the general instructional program and be in complete harmony with the objectives of the total school program.
The interscholastic athletic program shall be conducted in accordance with existing Board of Education policies and rules and regulations. While the Board of Education takes great pride in winning, it does not condone "winning at any cost" and discourages any and all pressure, which might tend to neglect good sportsmanship. At all times, the athletic program must be conducted in such a way so as to justify it as an educational activity.
Every effort will be made to support the athletic program with the best facilities, equipment and with the most qualified staff available. In so far as possible, knowledge and skills gained in classes should be applied and developed further through participation in the athletic program. Coaches, directors and advisors should also teach the specific skills necessary for improvement in activities and provide guidance in the development of self-realization, good sportsmanship, cooperation, leadership, ethical behavior, sensitivity and an appreciation for the importance of practice including teamwork, loyalty and the discipline of hard work.
Boys Youth Hoops Basketball
Manchester Boys Basketball will organizing a two-part program for all boys grades 3-8 for this
2023-24 season.
Part 1: (This is for 3rd-6th grade boys only as 7th-8th grade boys will be in-season)
We will be running our in-house Manchester Boys Youth Hoop Program on the following Saturdays:
Dates: Nov. 4,11,18 Dec. 2, 9, 16 ( all at Manchester HS except Dec. 2 at Riverside)
Cost: $50 ( it's up and running soon of RevTrak)
Times: 9:00AM-10:30AM 3rd and 4th graders
10:30AM-12:00PM 5th and 6th graders
Focus will be on teaching the fundamentals of the game (footwork, passing, ball handling, shooting,,,)
and learning the basic terminology and concepts of the offensive and defensive systems we will be using
throughout the Manchester program- not just playing games.
Part 2: (This is for all 3rd-8th grade boys)
After Holidays: We would like to get as many Manchester teams as possible ( even if we have to
combine some grade levels to do so ) and enter those teams into the Tecumseh
Hoopsters League. Games will be one weekend day with a practice sometime during
the week. The focus here would be continued development of fundamental skills
along with gaining experience playing "outside" competition. We will need to find
some parents willing to coach these teams.
If you interested in coaching a Manchester youth travel team or have questions,
contact Coach Swoverland at: rswoverland@mcs.k12.mi.us
https://manchester.revtrak.net/community-partnerships/community-youth-hoops/#/v/Youth-Hoops-Boys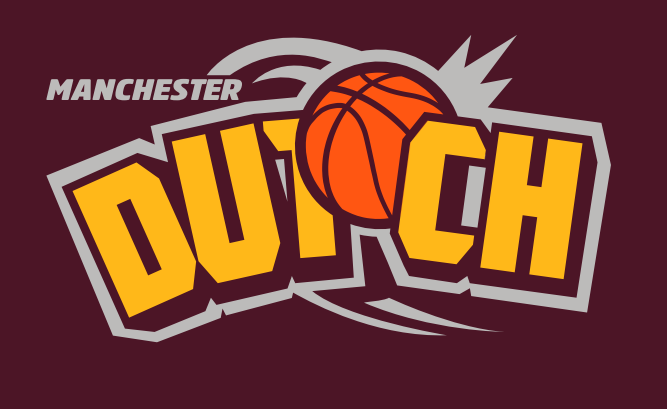 Girls Youth Hoops Basketball
Manchester Youth Cheer is for everyone K- 5th Grades!
Youth Cheer Mission:
To develop the fundamentals of cheerleading; and encourage participation in team sports. In addition, we are supportive of cheerleading being a means of staying active, as well as having fun.
The goals of the program are to develop a sense of achievement, leadership skills, and a positive self-image for all participants. We will accomplish these goals by encouraging positive attitudes, healthy lifestyles, work ethic, discipline, and perseverance.
We believe that in developing those traits, our young children will not only be successful athletically, but throughout all aspects of their lives.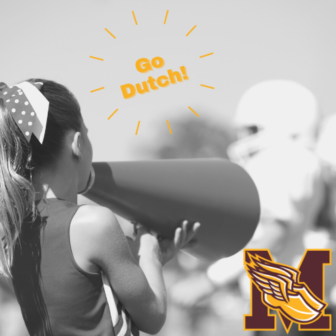 Youth Dutch Football "Little Kids with big HEARTS and even bigger DREAMS"
The philosophy of the Manchester Youth Football is to create an organized football program for all children grades K-6 that live in the Manchester Community School District.
The primary purpose of Manchester Youth Football will be to teach the fundamentals of football, sportsmanship, discipline, and the importance of team play to all the participants.
Check out the: 2023 Manchester Youth Football FUNdamental Camp Flier and Signup
and join us on the Manchester Youth Football Facebook Page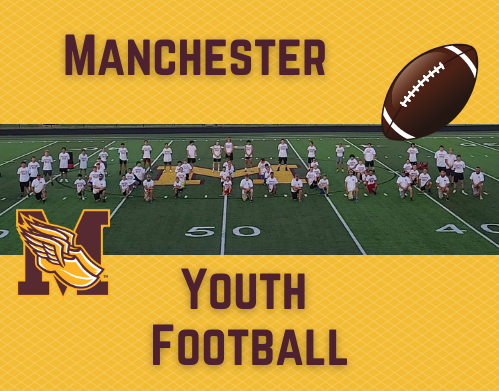 Who: For all students grades Kindergarten through 6th grades, this fall.
What: Football Passing, Catching, Ball Security Skills and Football FUNdamentals.
When: July 27th, 28th 6:00 – 8:00pm
Where: On the Turf at the Football stadium
What to Wear: T-Shirt, Shorts, and Tennis shoes.
Coaches – High School, Middle School and Youth Coaches.
Helpers – High School Football Players.
Cost: $30 – Make Checks Payable to Manchester High School Football
The Manchester Soccer Association's mission is to provide motivated parent volunteers the framework and tools to create, coach and participate in travel and recreational soccer teams and programs. We strive to provide an environment that fosters the principles of good sportsmanship and teamwork, and that provides a positive, developmental and competitive soccer program for all players within the Manchester and surrounding areas.
For more information, please visit the MSA website.
Manchester Area Youth Sports is an organization that provides Manchester area players an opportunity to play baseball and/or softball. Our enrollment roster is approximately 280 kids. They offer teams for children ages 4 through 14. Minor, Major and Junior League teams are part of the Cascade Area Youth League and travel within the Cascade Conference to play their games. T-ball and Machine Pitch divisions are played locally.
You can get more information by visiting the: Manchester Area Youth Sports Website